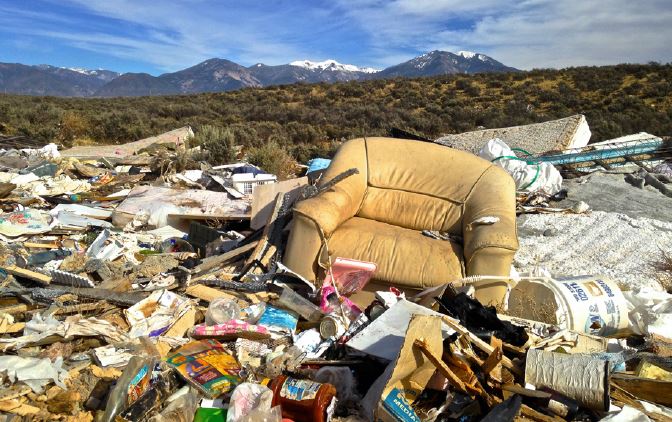 As we face unprecedented global environmental quandary, the Beautiful Midden collaborators have chosen to set an example for addressing root causes of degradation and restoring community stewardship for place in the unique rural community of Taos, New Mexico. Working directly with Amigos Bravos and the Taos County Solid Waste Department, the team has engaged the community in an ongoing artistic inquiry and strategic intervention dealing with the old habits of illegal dumping and intense lead based ammunition discharge into our limited and fragile waterways.  By initiating imaginative and unifying acts that honor humanity and wilderness and by bringing a sense of humor and surprise to divisive, entrenched perspectives, they are exemplifying how art can be used as an instrument of dynamic social change.  The character of the place provokes a distinctive body of artwork that challenges unsustainable traditions and habits, marks an historical moment in time, and presses the imagination in an empowered way toward the future.
Beautiful Midden recently celebrated five years of community service by presenting an exhibition and performance at the Taos Center for the Arts.  To view the full exhibition press release, click here.
---
THANK YOU TO OUR COLLABORATORS!
Amigos Bravos
DMC Broadcasting
Harwood Museum of Art
ISEA 2012
KNCE
KSFR
KTAOS
LEAP (Land, Experience and Art of Place)
Los Rios River Runners
New Mexico Recycling Coalition
Patagonia
Rio Grande Ace Hardware
Rocky Mountain Youth Corp
Santa Fe Community Foundation
South Broadway Cultural Center, Albuquerque
Steven Gootgeld Studios
Taos Community Foundation
Taos Bureau of Land Management
Taos Center for the Arts
Taos County Commissioners
Taos County Solid Waste Department
Taos Fall Arts Festival
Taos Hunting Company
Taos Municipal Schools
Temper of the Times Foundation
Town of Taos
Taos News
University of New Mexico, Taos